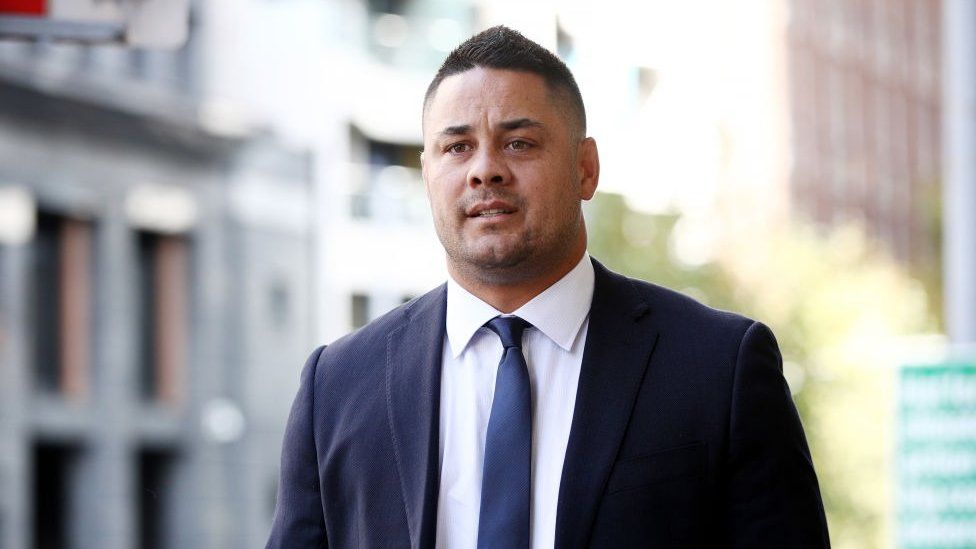 Former Australian Rugby League star Jarryd Hayne has been found guilty of raping a woman in 2018.
It is the third time Hayne has faced trial for the same case, with the first ending in a hung jury and the second's guilty verdict overturned on appeal.
The 35-year-old has consistently denied he attacked the woman in her bedroom, leaving her with injuries.
Hayne is one of Australian rugby league's most decorated athletes, and also had a brief NFL career in the US.
He will be sentenced at a later date.
Over 11 days in March, a jury in the New South Wales District Court was played hours of recorded evidence from witnesses including Hayne, the complainant, her family and police.
The court heard the pair had chatted on social media for two weeks before Hayne stopped at the woman's house in Newcastle – about two hours north of Sydney – after a bachelor party on 30 September 2018.
The woman told Hayne she did not want to have sex with him after she realised he'd left a taxi waiting outside, prosecutors had argued.
Hayne assaulted her despite the woman saying "no" and "stop", they said.
But the former National Rugby League (NRL) player insisted all sexual activity was consensual and that the injuries had been accidental.
Hayne shook his head and his wife cried as the jury on Tuesday – after six days of deliberation- delivered their guilty verdict on two counts of sexual assault.
The verdict ends a five-year legal battle.
Hayne first faced trial in 2020 but the jury was unable to reach an unanimous verdict.
A second trial in 2021 resulted in a guilty verdict but the player appealed. He argued the jury had been given "flawed" directions and that there had been an error in a pre-trial ruling on evidence.
The player spent nine months in jail before a judge threw out his conviction and ordered a third trial.
Hayne was one of the NRL's most high-profile athletes and twice won the player of the year award. He played 11 Tests for Australia, helping them to win the 2013 World Cup.
At the height of his NRL career, in 2015 he joined the NFL in the US with the San Francisco 49ers.