Elahe Tavokolian, a PhD student, lost the sight in her right eye after being shot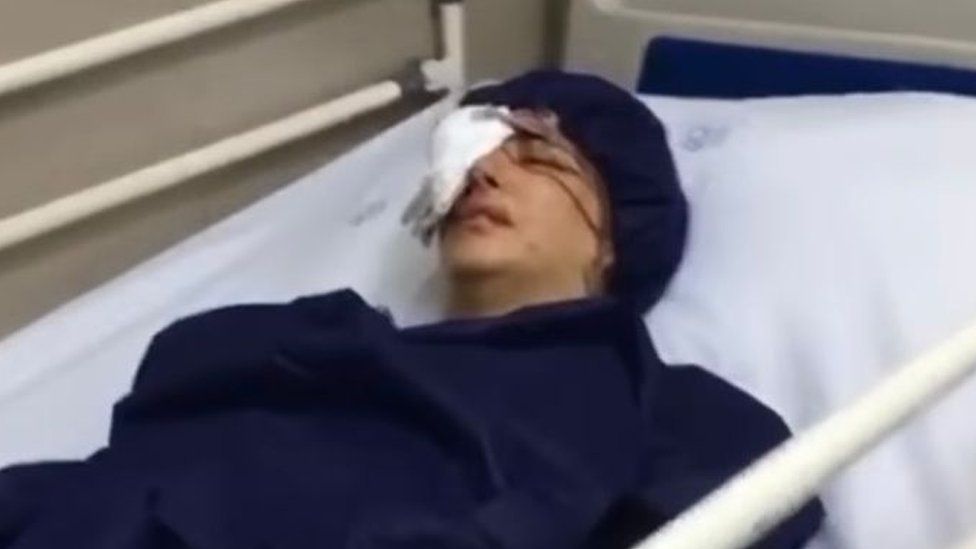 A young woman lies in a hospital bed, a bandage over her right eye. Her left eye is closed, her mouth grimaces and she is moaning in pain.
Elahe Tavokolian was shot by Iranian security forces during protests in a north-eastern city near Mashhad in September.
The PhD student lost the sight in her right eye.
Warning: This article contains details that some readers may find distressing.
But it was only three months later that she felt brave enough to share the video of her ordeal on Instagram.
"You aimed at my eyes but my heart is still beating," she writes in the post. "Thank you for taking the sight from my eye which has opened the eyes of so many people.
"The light inside my heart and the hope of good days to come will keep me smiling. But your heart and your commander's heart are getting darker every day.
"I'll soon get a glass eye and you'll get a medal."
Elahe recently left Iran and had major surgery in Italy to remove a bullet lodged in her head. She posted a video of herself on a hospital bed saying: "I'm gonna live to narrate this."
After the procedure, she told BBC Persian that she plans to "exhibit the bullet in an international court" in future.
Tens of thousands have taken parts in protests against Iran's clerical establishment since the death in September of a young Kurdish woman, Mahsa Amini, in police custody for allegedly failing to wear her headscarf.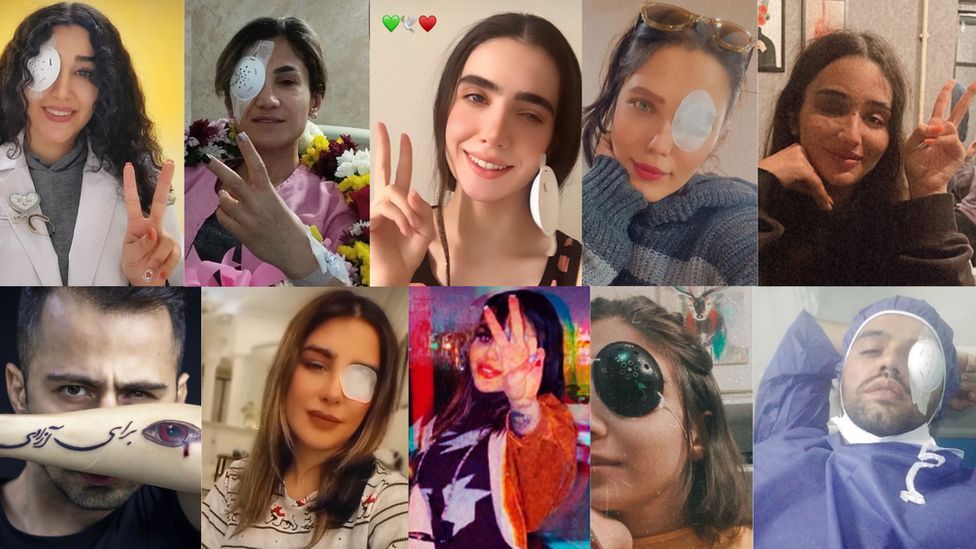 Persian social media is full of young people who say they were shot in the eye by security forces
A police crackdown has followed, with nearly 20,000 people arrested and 500 killed, according to the Human Rights Activists News Agency (HRANA).
The young people who have been blinded say they were singled out.
But the commander of Iran's riot police, Brigadier-General Hassan Karami, recently rejected such allegations in the Iranian media.
He said it was "propaganda" to accuse his forces of "intentionally" shooting protesters in the face.
Ghazal Ranjkesh, a law student, was one of them. She was shot in the southern city of Bandar Abbas in November.
The 21-year-old was the first to openly post on social media about her injury to raise awareness.
In the video she shared from her hospital bed, blood seeps from her right eye but she still makes the victory sign with her fingers.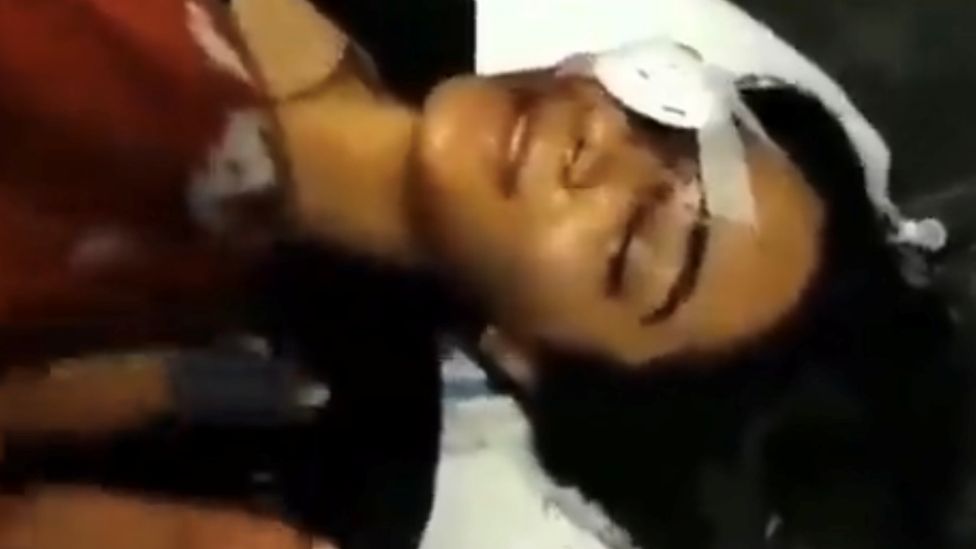 Ghazal Ranjkesh's post inspired other victims to do the same
The video went viral, showing Iranians at home and abroad how young people were being targeted by the authorities.
"Why were you smiling when you shot me?" Ghazal wrote alongside her video.
She later deleted it to protect the medical staff whose voices could be heard.
But Ghazal had started something unique.
Young men and women with similar injuries realised they were not alone and could find a community online to help them through their trauma.
"The sound of the eyes is louder than any scream," reads Ghazal's personal statement in Persian on Instagram.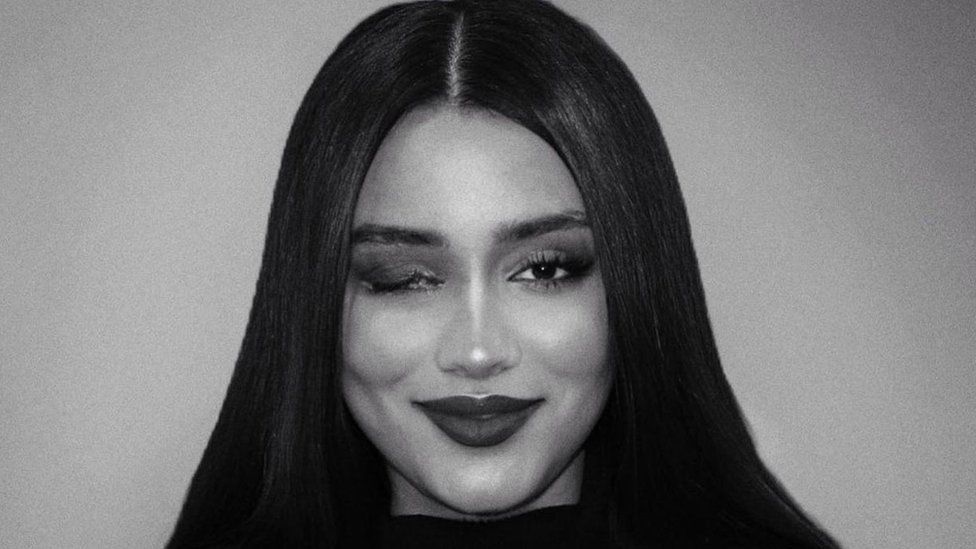 Ghazal Ranjkesh: "Our victory is not here yet but it's close"
She has recently posted new photos of herself. They could be mistaken for a fashion shoot until you look a little closer.
"The pain is unbearable but I'll get used to it," she writes. "I will live my life because my story is unfinished. Our victory is not here yet but it's close."
Ghazal has been fitted with a prosthetic eye, and she has written about her struggle to accept it. She said she got used to the wound on her face, and even felt proud of it, and that going through plastic surgery was agonising.
But she has the spirit of a fighter. "I will witness freedom with one eye," she wrote.
No-one knows how many people have been injured like this across Iran.
Such was the fear of being arrested in hospital, some protesters were too scared to seek medical aid at all.
The New York Times has established that 500 people with similar injuries sought treatment at three hospitals in Tehran between September and November last year.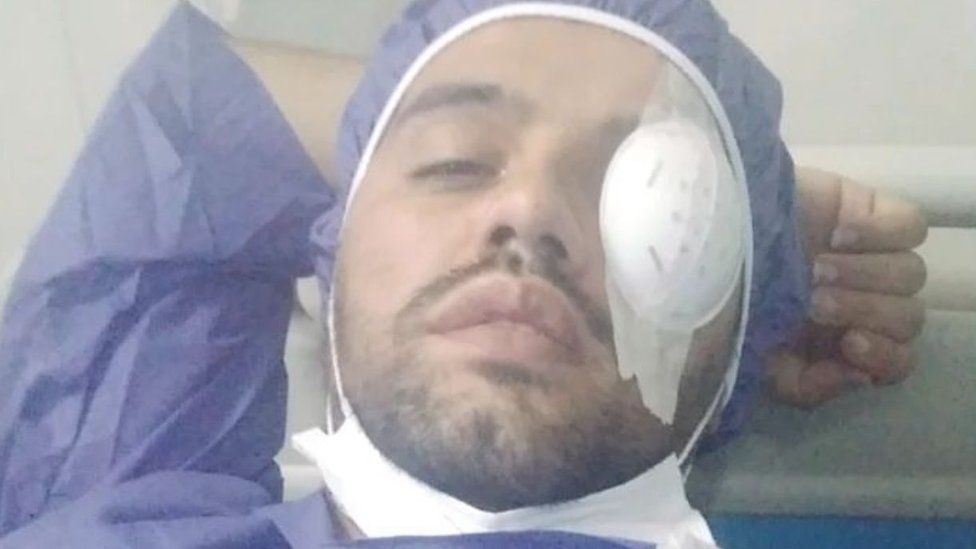 Mohammad was shot at the start of the protests in September
Mohammad Farzi, 32, a street performer based in Tehran, was shot in September. Birdshot, a type of shotgun pellet, lodged in his eye.
"I don't regret it," he says. "I'm proud that I sacrificed my eye for people's freedom."
He did go to hospital despite the risks, and his eye can be saved. But he has run out of money and was forced to stop treatment before his third operation.
"The main issue is support, financially, psychologically and medically," says Mohammad.
It is estimated he has spent more than $2,500 (£2,000) in hospital fees.
Dr Mohammad Jafar Ghaempanah is one of nearly 400 ophthalmologists, or eye doctors, who have signed an official letter, urging the authorities to give more support to the injured.
He says the blinded protesters will be marked forever in society.
"Until the end of their life, this young person will be living proof of Iran's crackdown," he said in a video which has also gone viral.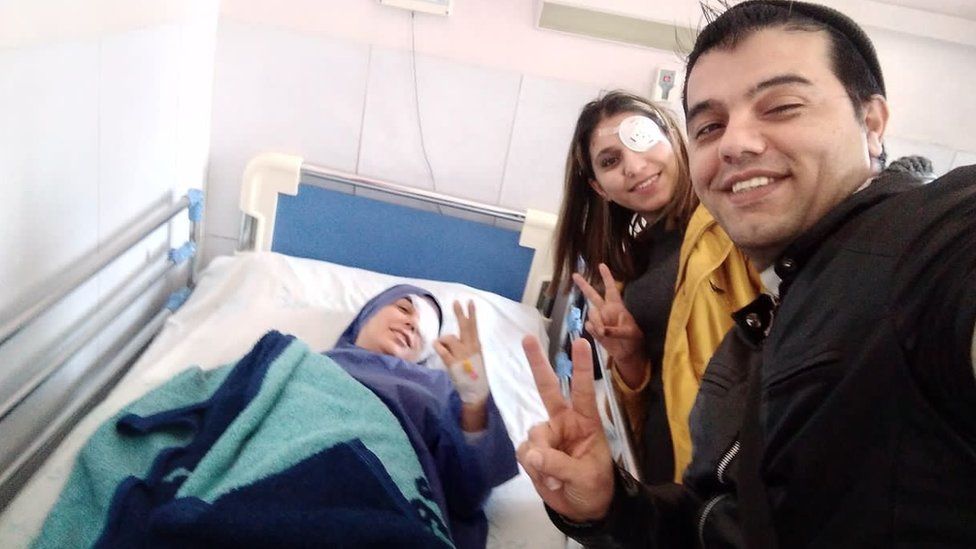 Elahe Tavokolian (L) posed for a photo in hospital with Mohammad Farzi (R) and Kosar Eftekhari (C)
Mohammad was determined that the online support he receive should cross over into real life friendships.
Along with an injured woman, Kosar Eftekhari, he travelled nearly 900km (560 miles) to see Elahe in hospital before a major operation.
"It's the only thing we can do," he says. "We know the pain, the distress and we must be there for each other."
They shared a photo on social media – all injured but making the victory sign.
Despite the pain, Elahe posted on Instagram after her surgery. She thanked her father, Mohammad and Kosar for being there for her.
"Hope blooms from my wound," she wrote.